Studies show that people who work in a pleasant environment are more productive and inspired. This is why, business owners tend to renovate their offices periodically in order to change and refresh the environment. If that time has come for you and you are worried that you won't be able to carry out the necessary remodelling works because of you`re on a tight budget, have no worries and keep reading, as we have some very helpful tips for you.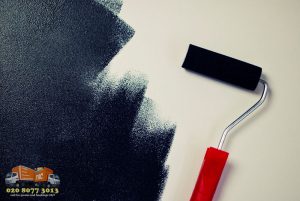 A new colour scheme can make a world of difference and change the entire ambience of the office. Avoid vibrant and darker tones because they tend to affect mood. Instead, opt for neutral colours such as white, beige, grey, olive, sand and more. If the property is small your can create the illusion that it is large by painting vertical stripes. If you want to make your office appear taller, all you have to do is apply horizontal stripes.
Cheap artwork can also get the job done
You don't have to break bank in order to have artwork in your office. Moreover, you can purchase beautiful generic pieces that promote tranquillity and serenity throughout your place of work. Avoid hanging posters with inspiration quotes, as researches have proven that employees find then irritating and annoying. Instead, choose painting or photographs of landscapes. In addition, do not overdo with the artwork, two or three larger pieces will be enough to anchor the office and create a modern professional environment.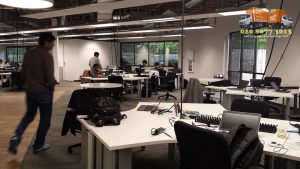 Open plans are pleasanter and less confining. By disassembling the cubicles, you will create a workspace in which your employees will feel comfortable, cosy and free. This will also allow them to grow stronger ties between one another, which can only be beneficial for your business. Once the faux walls of the cubicles have been brought down, contact Full House Clearance and book their first grade office clearance services in London. This way, the post-renovation rubbish removal will be handled quickly as properly equipped and licensed technicians will execute it.
New lights, better ambiance, lower bills
Change the light fixtures
Artificial illumination technology has improved drastically during the last decade, so don't hesitate to replace your current lighting fixtures with more contemporary pieces. This will not only improve the illumination levels in your office but it will also change the room's atmosphere. Last but not least, it will permit you to lower your electrically bills as modern lighting fixtures and light bulbs are manufactured to be energy-efficient and more lasting.
Remove the window treatments
Take down the window blinds and leave the windows naked. This will allow more natural light to enter into the office and will create the illusion that room is much bigger. The only downside of this trick is that you will have to clean the windows more frequently as all stains and dirt build-ups will become more visible.
As you see, there is no need to drain your savings and close your office for long periods in order to improve the environment without your place of business.