In time, the average garage begins to look like a warehouse for wanted and unwanted items which cannot be taken inside the house due to one reason or another. The larger the garage, the more junk and rubbish it will accumulate.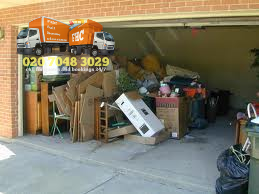 If your garage is cluttered with items and junk you no longer need to keep around, and there is only room to park a scooter, then you should definitely arrange for a proper garage clearance London domestic customers can have use deal with their garage clearance in a safe, quick and highly efficient manner. We will have your garage cleared of any junk, appliances, old furniture pieces, unrepairable equipment and machinery, leftover renovation materials and building supplies, as well as any other junk and rubbish that might be in there. If amongst all the junk there are items you like to hold onto, just let us know and we will put those aside, and deal with the rest.
Our London garage clearance will also deal with large or bulky items which cannot be moved or taken away by any other means, as we work with skilled and well organised clearance teams who will have the items disassembled and removed easily and with no risk of damage. In many cases, garage clearances unearth certain chemicals, materials and substances which must be disposed of properly, as they cannot be taken to the landfill. If these materials and substances are nontoxic, non-volatile or not hazardous in any particular way, our house clearance teams in London will pack, secure and take those away without any fuss. Explosive, toxic, corrosive, or bio hazardous materials will not be subject to clearance. We will sort through items you need to get rid of, in order to divert as much as possible from ending up in landfills thus we will recycle and reuse whatever salvageable.
When it comes to safe, efficient and affordable garage clearance London households can be sure that we have all bases covered, and everything under control. We will even sweep up the garage and clean any debris and leftovers on the way out. We will schedule you garage clearance in London for a time best fitted to your needs. Last minute booking is always on the table, and we are available on weekends and bank holidays. Our London garage clearance service is the easy and affordable way to get rid of the junk and rubbish cluttering your garage once and for all. Our garage clearance service in London is also the cost efficient way to dispose of unwanted items without having to invest any resources or effort of your own.