The garden is meant to be a place where you can relax and catch some sun, not a storage house for old junk and discarded items from the rest of the property. If your garden is starting to look like a scrap yard, full of old and no longer needed items then it is about time you organised for a proper garden clearance London domestic customers can turn to us for quick, efficient and affordable garden clearance services which will quickly rid you of all the junk and rubbish littering your green patch.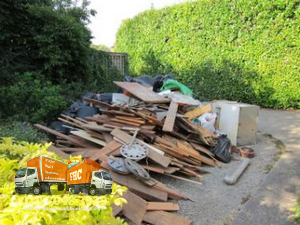 Our garden clearance service in London is fully comprehensive which means you don't have to lift a finger, as our diligent and well organised clearance crews will collect, load and take away all items, as well as green waste and clear your garden for its intended use. Your garden clearance will be taken care of in a swift, hassle-free manner, without any unnecessary time wasting or delays. We will quickly secure and load any large items such as old appliances littering your garden, as well as any renovation or building leftovers, and any other junk in your garden including old outdoor furniture which you no longer need.
If during this process we come across certain items of value, which you like to hold onto, just let us know and we will sort those aside, and deal with the rest.

In case you need to get rid of large amounts of green waste such as branches, leaves, twigs, shrubs, dead pot plants, broken pots, lawn clippings, pieces of old irrigation systems etc. then our attentive and efficient garden clearance service in London will prove to be just what you need, and save you the hassle of having to collect and dispose of all the waste on your own. In terms of cost and efficiency, our London garden clearance is affordable and very convenient. Plus, you will be doing your bit for the environment, as we will recycle and reuse as much of the discarded items as possible, so at least some of the waste is diverted from landfills. We will come equipped with all the necessary supplies and materials, in case we need to move junk and rubbish through the house.

When it comes to proper garden clearance London domestic customers can be sure to receive affordable and efficient clearance service, minus the high costs and extra hassles.