Clutter is the greatest enemy of the well-organised, comfortable life. The worst thing is that it often takes reign in our homes without ever noticing it. Battling clutter needs to be done on a daily basis in order to be successful, and the best strategy for it is to simply make sure that you do not have any unnecessary items – furniture, appliances, decoration – piling up on your property.
All of the goods described before you can easily get rid of by using a reliable licensed Northwood HA6 house clearance service. If you live in another part of London, have no fear, because such solutions are most certainly available in your neighbourhood too.
Broken down furniture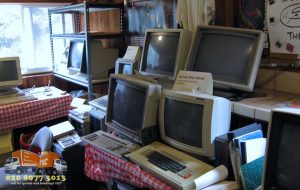 A chair you fall off every time you sit in, a couch that no longer can be used and wardrobes without doors – those are just a few of the pieces of broken down furniture that you simply do not want to keep with you once you move, even if you have some emotional attachment to them. Often it will be more expensive to repair them than to replace them with a new alternative. Not to mention the fact that even when fixed, old furniture is much more likely to sustain damage during transportation.
Outdated appliances
If your oven, fridge or other even smaller piece of appliance is not going to fit your new place, it is much better to get rid of those than to hang on to them. After all, you can always buy new, energy efficient ones that will pay off the initial investment in a year or so by saving you quite a bit of cash on the utility bills.
Old computers
We all have some sentimental attachment to our first computer or laptop but this is no reason to keep it with us when we are moving to a new house where it is just going to gather dust. Here are some things you can do with an old computer different from simply tossing it in the garbage:
Sell it online
Donate it to a library or local school
Give it to a senior family member who would have use for it for emails and video calls with family
As you can see, an old computer can do much more good than simply taking place in the attic at your new place.
Pictured: you can find a lot of uses for your old computers
Books you no longer read or need
Everyone loves having a large library at home, but the simple truth is that books are heavy and take up space. In short they are a real nightmare for packing and moving from address to address. So donate or sell a bulk of the volumes you do not think you will be reading anymore. Thus you will also free up space for new, worthy additions to your library.
Newspapers, bills and other paper
Paper causes clutter and is not environment friendly. You will have no problem recycling the bulk of old newspapers and bills you have gathered over the years, and you will be doing a good thing for your moving project and the planet alike.