Do you rely on effective waste clearance services in London on a regular basis? Do you think it is not an easy thing to make your household produce less waste? Well, think again because with just a few small adjustments to your lifestyle you will actually be able to achieve results that you never expected to be possible.
Why do it?
It is important to have a home with optimised waste management for a number of reasons, but the three most important among those are:
First and foremost, the less waste you have at home, the less likely you are to catch a nasty disease or to develop a health condition such as asthma or allergies. Naturally, the less waste you and your family produce, the better it is for the planet. Last but not least, it is proven that the eco-friendly way of living, when implemented properly, can save you quite a bit of cash. So, when you come to think of it, there is really no reason why you should not get down to work now.
So, what can I do?
As we have already had the chance to mention, it is not necessary to make huge compromises and changes to your way of life in order to make sure that your household produces less waste. The first step to take is a logical one, and that is to get rid of the rubbish that has been accumulated on your property up to this moment. The easiest way to do that is to book a dependable waste clearance service in Harold Wood HA3 or wherever you are based at.
The next step is to reduce clutter because there is a causal link between clutter and accumulation of unnecessary rubbish and domestic waste. Three simple tricks for that include always putting everything in its supposed place immediately after you are done using the item; having a designated spot for your keys, small change and other items you take with you when you go out; and giving up on paper bills, newspapers etc. which is particularly easy in the digital age in which we are living today.
It turns out that giving up on nasty and unnecessary habits and items is the best way to reduce waste at home. For example, everyone knows that drinking water during the day is very important for one's health and general physical condition. But instead of buying plastic water bottles that you will use only once, you can install a water filter on your sink and re-fill a glass bottle that will even be handy when you are going out. Re-using everything before throwing it out can also be beneficial. Before you throw something in the bin, ask yourself isn't there any other way in which you can utilise it. The more you do that, the easier it is going to become.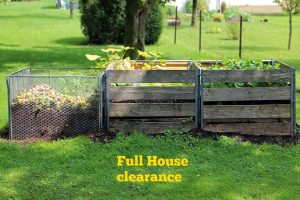 Last but not least, organic waste can easily be turned into a useful compound if you compost. Build your own compost station in the garden and reap the benefits within just a few weeks.
Caption: Composting is the eco-friendly way to deal with organic waste at home