Bad habits are one of the most common reasons behind clutter. No, we are not talking about things like smoking, drinking or overeating. Instead, we are referring to a different type of behavioural patterns such as your:
Weekly cleaning routine
Organisational abilities
Decluttering tendencies
Practicality
Even the way you shop can affect your relationship with clutter.
Sticking to the "I may need it one day" affirmation
You hate to throw things away, even the ones you have not used in years because you never know when you may need them. Still, that day may never come and even if it does, is it really worth it to keep a pile of unwanted possessions that will collect dust for years and have a perpetual question mark hanging over them? It is time to move on! If you hate the thought of chucking anything in the bin, you can donate or sell it. But if the item is broken, find a top-notch waste disposal service in Crafton Park SE4 because professional assistance is always the best, quickest and most eco-friendly way to dispose of any piece of junk.
Procrastinating
Postponing a home decluttering until the situation goes out of control is something you should never do. The longer you avoid this task, the more stuff you will need to sort through and throw away eventually. That problem can be quickly solved if you dedicate a little of your time to decluttering every single month. Even 15 minutes can make a big difference.
Not having a strict cleaning routine
Another terrible habit that leads to more clutter is a poor cleaning schedule. Make sure you sanitise your home at least once a week. In that way, you will maintain your house, furniture and carpeting in a top condition for a long time and will spot a potential clutter emergency before it has even happened.
Failing to organise your space
Keeping a home organised and neat-looking at all times requires some special skills and plenty of storage space. No matter whether you are living in a small flat or a big house, you need to invest in some storage solutions such as shelves, cupboards, pretty-looking storage boxes, etc. An even better idea would be to buy furniture pieces that offer hidden storage.
Using your garage as a storage room
Most households have that one room or area which turns into a designated storage space. Usually, that is the garage or a spare bedroom. But by using these spaces to keep your junk in them, you will not be able to enjoy their original purpose. Therefore, if you don't want to park your personal car in front of your house instead of in your garage, book an efficient garage clearance service in London. Get rid of all the waste and unwanted items.
Being a reckless shopper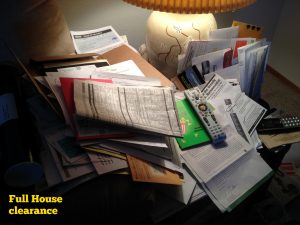 A shortcut to a local waste clearance service in Foots Cray DA14 is a reckless shopping habit. Buying things you do not really need is a recipe for a cluttered home. Many people cannot control their extreme spending habits because they use shopping as a form of therapy but that usually ends up costing them more than real therapy.