If you have never used rubbish removal services in London, you probably have many questions regarding the way they work, as well as to some aspects of the waste collection laws of the English capital. Well, now seems like the perfect time to get the answers to all of those questions and to learn why:
Professional rubbish removal services are important
Waste should be collected separately
There are so many junk depots around London
Why are there so many types of rubbish removal services?
Most of the licensed house clearance businesses in London offer a long list of services which often include garage, office and garden clearance. That is because rubbish depots and recycling facilities treat the different types of waste in a different way. They have separate sorting and recycling techniques for each category of rubbish. Many people falsely believe that domestic waste and garden waste, for instance, are one and the same thing. That, however, is not the case because these two types of rubbish require two distinctly different junk hauling methods.
Not all junk depots are the same
If you live in London, you can handle the removal of your waste all by yourself without the assistance of a professional team of rubbish collectors (unless the waste is hazardous). This means that you can dispose your waste at a rubbish depot in the city. Still, not all junk depots are the same. Some deal only with household waste, others with electronic waste and so on and so forth. Therefore, you can't just drive to the nearest rubbish depot and expect that you will be allowed to dump all of your trash there. You will need to do some research first.
The importance of professional waste collection services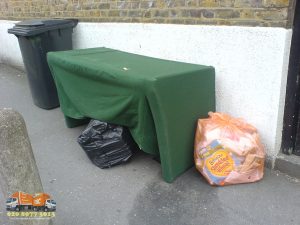 It is always advisable to rely on an insured and trusted rubbish removal company in London, especially for bigger waste collection jobs. Rubbish removal services are very popular in the UK capital and there is a good reason for that. As a start, they make the entire waste collection ordeal easy, fast and even more affordable as these businesses have contracts with junk depots and that alone can reduce some of your home clearance costs. Also, trained rubbish collectors know how to handle various types of waste and they are well equipped for this task. That will make the waste removal process much safer than if it was carried out by you.
Don'ts of rubbish removal in London
London is a city that has many strict laws and rules when it comes to waste collection and disposal. The most important of them is to never try to remove hazardous waste on your own. Instead, you must use the services of a licensed team of hazardous waste collectors. Keep in mind that most rubbish removal companies in London are not allowed to offer hazardous waste collection services. In most London boroughs, this task is handled by the hazardous waste collection facility in the City of London.
Londoners are also banned from burning trash or throwing waste in the sea or in rivers. There are hefty fines for anyone who breaks these laws as such irresponsible actions threaten both the environment and the health of all people living in the city.