One quite interesting and unusual trend which is currently on the rise is known as minimalist lifestyle. More and more people have started to open up to it, despite the fact that it involves making some major lifestyle changes.
What is minimalist lifestyle
Living like a minimalist generally means stripping everything to its basics and keeping only the things that you really need. That mainly includes decluttering your home by purging all of your belongings which you don't really need. At first sight that seems unnecessary but it does have a purpose which is to improve your life.
Advantages of clutter-free lifestyle
The clutter-free trend is said to offer various benefits. As a start, it allows people to travel from one place to another smoothly and quickly. That is because you can take most of your possessions with you and head on a round-the-world trip for a few months without having to worry that your home will be burglarised or that you will have to find someone to water your plants while you are gone. Another advantage of the minimalist lifestyle is that it is less stressful simply because it does not involve any clutter and it is anything but materialistic. Becoming a minimalist can also help you:
Reduce your daily expenses
Focus your attention on the outside world
Lead a happier and hassle-free life
How to become a minimalist
In order to become a minimalist, you must first learn to think like one. Simply said, you need to appreciate the practical side of this lifestyle and to be willing to make a lot of sacrifices in order to comply with it. That includes getting rid of a great deal of your belongings. This is never an easy step to take even which is why you must start small. At first, you can purge only duplicate items. Then you can move on to the clothes you no longer wear either because they don't fit you or because they have gone out of style. Once you do that, you can try reducing the decorations in your home, particularly those which have absolutely no practical purpose.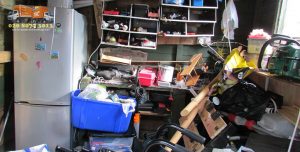 Decluttering is at the core of this rather unusual trend. That is why using the services of a professional house clearance firm in London can make the purging process speedy and effortless, especially in hard-to-reach London neighbourhoods like Eel Pie Island TW1. But even in areas which are set in central London, like Gospel Oaks NW5, NW3 or Charing Cross WC2, booking a team of licensed rubbish collectors is a must when decluttering your home. That is because these professionals are fully equipped and they are trained to collect and dispose of various different types of waste materials and unwanted items in a risk-free and eco-friendly manner.
However, be extra careful when you purge your possessions. Otherwise, you may develop a condition known as obsessive-compulsive decluttering which is practically the opposite of hoarding. Those who suffer from it feel such a liberation when they declutter that they are willing to buy more items just so that they can throw them away on the next day.