Have you ever considered trying out recycling for a while? If you have not, maybe you will change your mind once we show you all the things into which your rubbish can be easily transformed. In this article, we will focus on some of the main types of domestic waste collected by skilled waste clearance experts in Manor Park E12 or in any other London area for that matter. This list includes:
Glass jars and bottles
Plastic bottles
Food waste
Cans (tin & aluminium)
Paper (including newspapers)
You can give a second life to all of these things and to some of them, you can even give a third, fourth and etc. lives because some types of waste can be recycled and reused more than once.
Glass jars and bottles
Did you know that glass jars and glass bottles are 100% recyclable? What is more, they can be turned into new glass bottles and jars or to any other glass-made item such as fibreglass or glass sand. If they are crushed they can be transformed into various construction materials – from bricks and tiles to entire roads.
Plastic bottles
There are two types of plastic bottles. The first is known as HDPE bottles and are made of high-density polyethylene. PET bottles are the second type of plastic bottles and they contain polyethylene terephthalate. HDPE is more durable compared to PET. To know what type of bottles you have at home, look at their label or on the bottle itself. It should be marked.
HDPE bottles
In most of the cases, they are recycled into garden furniture, bins, buckets, car mats, signposts or even into certain building materials. Prior to the recycling process itself, the bottles are washed and dried and they are also cut into small flakes.
PET bottles
They are not as sturdy and durable as HDPE plastic bottles. That is why they often end up reincarnating as packaging or as plastic bottles again.
Food waste
Not all recycling facilities deal with food waste but that does not mean that it cannot be recycled. There are special plants that produce electricity from this type of waste. In fact, even if you can recycle old food leftovers by composting them and reusing them as a fertiliser for your home garden.
Cans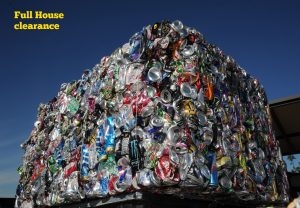 Tin cans contain a coat of steel. Therefore, they can be reborn not only as tin cans but also as parts for bikes, cars or even aeroplanes, as well as domestic appliances or steel beams. Aluminium cans can also be recycled, at that, it can be fully recycled. That is why we still use about 75% of all the aluminium that was used in the late 19th century. Your aluminium cans can turn into aluminium cans in a matter of just two months.
Paper
Paper comes in all shapes and forms and it included magazines, newspapers, cardboard, paperboard, printer paper… Depending on its thickness it can be recycled into napkins, kitchen paper and toilet paper or even to a countertop or a building insulation.
As odd as that may sound, recycling helps rubbish to reincarnate into something new, beautiful and useful. However, if you want your waste to be properly recycled, opt to use the professional services of a licensed rubbish collection company that offers a wide range of solutions, such as inexpensive skip hire in London, and works in partnership with local recycling facilities.