One of the most effective ways to keep your house free of any junk and clutter is by relying on trusted waste clearance services in London every now and then. But how regularly should you call the pros? The answer to that questions depends on many factors among which are:
The size of your home
Your lifestyle
The size of the household
Your own sense of organisation and neatness
However, there are a few warning signs which suggest that you may need to do a major decluttering in your house without wasting any more time.
Strange smells
If parts of your home are taken over by a mysterious smell and you struggle to identify its source, you should definitely roll up those sleeves or contact the professionals and clear out all the items that you have been storing for years. The cause for the bad odour in your home may be anything from mould to rust. As a matter of fact, even dust can become a source of unpleasant smells when it gets the chance to build up over a long period of time.
Frequent pest infestations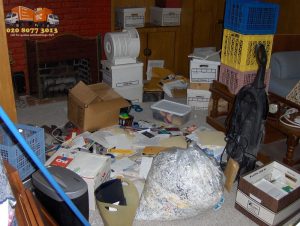 London is a city that is widely known for its pest problems. Rat, fox, bed bug and mice infestations are not uncommon even in the central parts of the English capital, even in Inner London Boroughs like Tower Hamlets and Newham. So, imagine if you are living in a neighbourhood such as Spitalfields or East Ham, that has a high rate of pest infestations and your home is filled with junk! The rubbish in your house will act as a magnet for unwanted animal visitors. Therefore, before it gets too late opt for comprehensive waste clearance services in Spitalfields E1. The price you will pay for such professional solutions will be nothing compared to expenses you will face when your home gets attacked by pests. Plus, by using affordable waste clearance in East Ham E6, you will keep your costs down to a minimum.
Not enough space
Another sign that you need to use the assistance of qualified rubbish collectors is when your home suddenly starts to feel too small. Unless your household has increased with one or two more members, you should blame the lack of space to the clutter in the property. Under "clutter" we do not necessarily mean a pile of old newspapers in the middle of your living room, for example. Clutter can also include broken appliances the disposal of which you have been postponing for years. Shortly put, if you have too many items which you are no longer using for one reason or another, it is clearly a high time for you to get rid of them. The bigger your home is the more junk it is likely to contain which is why you should find moderately priced waste clearance services in Selsdon CR2 or other similar London areas that are famous for their spacious properties.
Postponing the decluttering process will only make the situation worse. So, as soon as you realise that you need to reduce the junk in your home, take the necessary measures.