Clutter has many faces and it comes in various shapes and sizes. To be able to deal with it properly, you first need to learn to recognise and spot it in all of its forms. But be warned – the moment you learn how to do that, you will get the sudden need to seek for an affordable skin hire service in London. And here are the main types of clutter:
Not-enough-space clutter
Premium clutter
Sentimental clutter
Feel-good clutter
Clutter that is too painful to deal with
I-am-busy clutter
Don't worry if this is the first time you hear about some (or even all) of them. We are here to shed a light on each and every single one these clutter kinds.
Non-enough-space clutter
Families who have outgrowth their current home can easily associate with this problem. As its name suggests, this category of waste situation is caused by the lack of space in a flat or house. This is one of the few types of clutter on this list which you may not actually need to toss. You simply need to find a way to upgrade to a bigger home to gain control over that mess.
Premium clutter
You spent a small fortune on that coffee machine but then you realised that you are more of a cuppa-tea person. But you still hold on to your fancy coffeemaker because it cost you a lot of money. Guess what? Selling such items is now easier than ever before and it is all thanks to the Internet.
Sentimental clutter
A cinema ticket to your first ever date, a mug with a broken handle which you got during your university years, a post-it note from an old friend… sentimental clutter is usually the least practical clutter you can hold on to. It is also one of the hardest to let go of because it brings so many wonderful memories. A great way to reduce it is by digitalising it. Just take a photo of such items that are of high sentimental value to you.
Feel-good clutter
You were once a talented soccer player and you have proof of it – your old school trophies. Every time you look at them you feel good. It is time, however, to start living in the present.
Clutter that is too painful to deal with
Items of a loved one who has passed away or of an ex-spouse you still miss can be hard to look at. That is why they end up in some godforsaken box in the garage or on the attic. There is no easy way to go through it. So, set yourself a deadline that will motivate you to sort it out.
I-am-busy clutter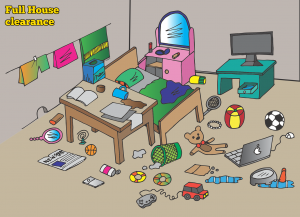 If your schedule has been quite hectic and busy lately, you will probably find a few piles of I-am-busy clutter. A chair in your bedroom covered with worn clothes, numerous newspapers on the coffee table… It's not that you enjoy living among this chaos, you simply don't have the time to deal with it. That, however, is not a good enough excuse, especially when there are such hassle-free waste clearance services in Dartmouth Park NW5. Call the pros today.