Preserving the planet is one of the rising issues today. One of the ways to do this is to recycle products and items that can be recycled. People around the world are using this method and recycling various things from their households, gardens, garages, etc., which ensures a proper rubbish removal. If you haven't started to recycle yet but you want, the list bellow will provide you with some basic instructions and advice on where to start. Check out the following items that can be recycled and do your part in preserving the environment.
Plastic Items
Plastic items should be recycled, especially PET plastic. This plastic is used for making various plastic containers such as takeout boxes, yogurt and ice-cream containers, medicine bottles, etc. It really should be that hard to set aside these items and recycle them. Plastic bags are also in this group. However, try to reuse them as many times as possible before you throw them away for recycling. This is another smart way to contribute aside form recycling: reusing. What's important is that before you give plastic items away for recycling, make sure you clean them first.
E-Waste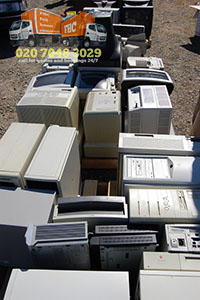 Many people are not familiar with the fact that electronic devices can be recycled. Devices such as cameras, smartphones, radios, mice, printers, home phones and other items can be recycled, but also reused for parts, for example if not in the working condition. These devices contain a variety of materials that are recyclable like plastic, metal and glass. So why would you throw it away when you can make some money or it or you can give them away for a better cause? However, there are certain devices that are not accepted by recycling programs, such as smoke and fire detectors, microwaves, refrigerators, etc. If you are not sure how to dispose of them safely, call your local municipality and ask for advice.
Food and beverages packaging
There are items that aren't specifically recognized as the ones that can be recycled. People who are not sure whether certain items can be recycled can contact recycling companies that are specialized in this field. Such items include snack packs, potato chip bags, granola bar wrappings, drink pouches, etc. You probably produce a lot of this type of waste each month. Therefore, since you can recycle such items, check out if your community provides proper location for dropping off such waste.
Paper and cardboards
Paper is recycled and we probably all know that. If you have paper waste that isn't too wet or dirty, put it in your paper bin. However, even though some of the modern companies do accept and recycle glossy paper that covers the magazines, avoid it. You can recycle paper cardboard juice and milk cartons, newspapers, flyers and many more.
Glass
Finally, glass jars and bottles can also be recycled. It is important to separate any glass items by the colour because some recycling centres take only specific colour to recycle, clear, brown or green, it depends. But be careful, not all glass can be taken into recycling program. Those items are: glass that is not cleaned, ceramics, mixed-colour glass, heat resistant glass, crystal, window glass, light bulbs, etc. Find more information online or call your local municipality.