The prospect of doing major renovations at your home or office can be pretty exciting. Chances are that the place will be much better once you are finished, and reflect your needs, personality and even dreams in a way that makes for a fulfilling life. Few people who embark on such an exciting journey think about one of the most substantial problems that renovations and construction work pose – the rubbish. Debris can accumulate at an alarming rate at your place and if you are not careful, you might be overwhelmed by their sheer volume by the end of the project. Here are several tips that will help you prevent that.
Discuss with the contractor
Just like every other issue related to your construction and/renovation project, you need to talk to the contractor that is handling the work (that is unless we are talking about a DIY project). You can rely on the fact that the people with the firm have faced problems similar to yours already and would know what to do, based on the specs of your project:
Nature of the construction/renovation
Size
Schedule
Your location
It is very likely that they already have a trusted waste disposal firm with which they have worked in the past and can reference you to it, or directly handle the matter as part of the service provided.
Find a local waste clearance company
In case you will be forced to figure out the rubbish collection on your own, your best bet is to search for a locally operating contractor in contrast to such that advertises for other areas or the entire London. For example, if you are doing renovations on a house in Yiewsley, look for dependable waste clearance in Yiewsley UB7. A local contractor would make it easier to lock down the solution you have been looking for, not to mention the fact that they will be most likely to offer reduced prices for residents of your area and last but not least – would have access to recycling depots and junk disposal facilities in the vicinity of your postcode, making the whole ordeal so much faster.
Hire a skip
Many specialists suggest that when it comes to construction debris, utilising a skip is the best way to deal with the problem. You can fill it up as you go on with your project, and then call the company you booked it from to collect and dispose of the junk. Even though it is not something you think about very often, finding cheap skip hire in London is not hard at all.
Recycle and reuse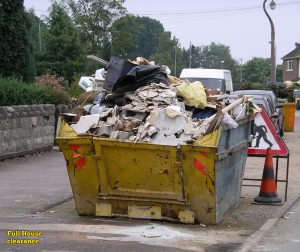 Don't forget that the conscious thing to do in your situation is to recycle and reuse as much of the waste and debris accumulated as possible. Most of it, such as outdated furniture, wood and stone materials can find new life easily – in the garden for example.
Be a friend to the environment and you will not regret it. You will be able to get more out of your construction project than you have expected in this way.