The living room is beyond any doubt the most important room in a household. It is in the living room that you welcome your guests and it is in the living room that you rest and relax after a hard day at school, college or work. So it is very importantly that your living room has a cozy and welcoming ambience so that you can really relax in full and get ready for the next day.
If you are currently living room isn't satisfying enough for you and doesn't allow you to rest properly, continue reading because we will turn your attention on several living room designs which you can use to change the vibe of your living room.
However before you commence your living room re-modeling project make sure that you find and hire a rubbish removal company to come when it is over and clear all the construction waste that will accumulate. Don't worry that you won't be able to find such a company as nowadays there are many rubbish removal companies that provide waste collection services.
The first living room design that we will present to you involves light colored walls and ceiling moldings. Paint your living room walls in a light colour such as white, beige, cream and etc. Then place on your ceiling moldings that you like. For example you can place the moldings in each corner of your ceiling and around the base of your living room luster. Then create a contrast in the room by placing dark toned furnishings in the room. If you like carpets you can also place a light coloured carpet on the floor.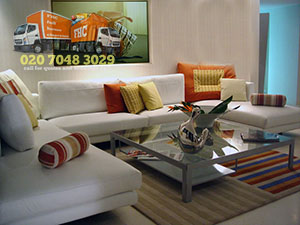 The next design will allow you to create the illusion that your living is much bigger. This is a design that is used by interior designer mostly in small living rooms to give more depth to the room. If your house's or flat's structure allows it, tear down the wall that separate your living room from your kitchen or dining room. This will create a large open room that will instantly create the illusion that you have a large living room. On the other hand if you cannot tear down the wall, add a small faux wall in the middle of the room. On the faux wall mount a fireplace which will give a cozier feeling to the room. Once the faux is built and the fire place is installed paint the room in the colors that you like and compliment the walls with the appropriate furnishings.
The last living room design that we will turn your attention to is an avid readers dream. Custom build a library that covers entirely one of your living room walls. Then place a soft, comfy sofa in close proximity to the library and several reading chairs nearby your living room windows. Make sure that you windows are curtain-free. This way you will allow more natural light to enter which will make your reading more pleasant and which will create the illusion that your living room is much larger.