You have just bought a house that has a small garden attached? Or you have been living in such a place for quite some time now and have decided that it is the moment that you stop wasting the space? Then you might be looking for some useful tips that will enable you to commence your wonderful journey in gardening in the smoothest and most pleasant manner possible. Those are just some random basic tips, but if you are a true beginner, we are more than certain that you will be able to appreciate them.
Let's start with the basics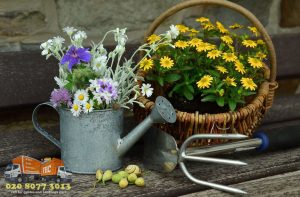 There are quite a few things that you should know before you begin your adventure in gardening, but do not be afraid. The best part about the process is that it is perfectly okey for you to learn on the go, which is definitely going to make the whole process much more fun for you.
Different soil makes different plants thrive. There are various types of soil – clay, sandy, heavy and light for example. Check what plants are suitable for the soil that you have in your garden. Do not be afraid to ask a neighbour if you are not sure.
When planting flowers, vegetables or whatever else, you should give the plants enough space to grow.
When watering plants that are already grown, you should soak the roots, not the leaves. Also, check how much water each plant you have actually requires. Some will need a lot, others will go without water for days and days at a time.
Weed will be your greatest enemy, so you should regularly check your garden and without compromise remove the weed from any spot you notice it in order to prevent it from growing all over the place.
Rubbish is not to be underestimated
You should be advised that your outdoor space is prone to accumulating unwanted rubbish all the time. No matter whether we are talking about your old car tyres that you have just not gotten around to disposing of yet, or the garden waste that appears while you are planting, weeding and doing all the other stuff you are supposed to do in a garden, rubbish is definitely a problem. So, it is highly recommended that every once in a while you hire a garden clearance team in London. It will be a cheap and really swift alternative to trying to do everything on your own.
Be enthusiastic about it and it will show
If you are really set on achieving the best results with your garden, then you should be serious and energetic about it. That's not hard at all. One good idea would be to create a scrapbook of your garden using some nice hard covered notebook or a photo album. Thus you will be able to keep track of your progress – a process that will come in handy with both managing your garden and boosting your morale. A little inspiration is always good. And remember that hard work always pays off, so if you do not feel like gardening right now, maybe you should reconsider. Go out  and build the garden of your dreams!