The winter months are quickly passing and spring is knocking on the door. Here are several property updates which you can conduct to prepare your household for the summer and make it more welcoming and appealing.
Install a skylight in the bedroom – The summer night sky is beautiful and would it be great if you can enjoy it while you are lying in your bed? You can do that by mounting a skylight in your bedroom. The installing process is quite simply and once you are done you will not only add an interesting feature to your household but you will also augment its price. Once the skylight has been mounted, call and hire a rubbish removal company to come and collect the construction garbage that has been generated during the installation procedure.
Replace your drapery – Take down the heavy drapery and hang light curtains instead. The latter window treatments will allow more natural light to enter into your home and will create a more welcoming and cozy ambiance throughout your home. Opt for curtains which are in bright and light tones such as peach, yellow, white, beige and so on. Just make sure that the colour blends in easily and naturally with the overall hues of your household.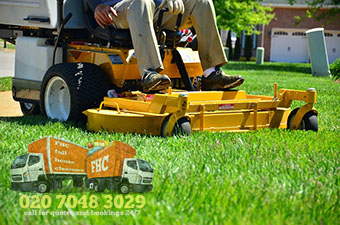 Alter the front lawn – Nowadays front gardens are becoming more and more popular amongst homeowners, so why don't you transform your front lawn into a lush green and colourful garden which will not only add to the curb appeal of your house but also raise it value. It will also always give you a smile when you return home from a heavy day at work because flowers and greenery tend to make people feel better. Once the conversion is over, you can have rubbish removal specialist clean the landscaping waste that has been accumulated during the process.
Change your linens – Just like with your window treatments, a fresh and bright set of bed linens will drastically change the atmosphere of your bedroom and household. Choose playful patterns and bright hues which will compliment the spring and summer tones that surround your house.
Repaint the exterior walls – The interiors walls aren't the only ones that require refreshing every now and then. So, grab several buckets of paint and some brushed and start repainting your exterior walls. Once you are done, your house will look better than ever and it will be ready to welcoming the upcoming warm months of the year.
Create an outdoor area – Why stay indoors when the weather is warm, sunny and nice. Create an outdoor area where you can gather with your family and friends and enjoy the summer. It can be a simply area that is made out of a coffee table and four chairs, :
Outdoor kitchen
Outdoor dining room
Outdoor living room
Outdoor entertainment area
As you can see preparing your house from the summer isn't that complicated and can be done quickly and efficiently if you put your thought to it.