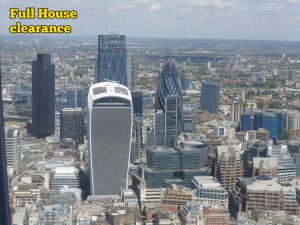 With an 800-year-old history, the City of London is a major city and county and one of the prime financial and business hubs of London that has a wealth of museums, galleries, green spaces, restaurants, bars, churches and shops. Some of the London's most popular attractions are located here, including:
The Museum of London
St Paul's Cathedral
The Tower of London, etc.
Pictured: The City of London – London's financial district
Whether you are just visiting or planning to move to this lovely and stylish London area, you won't definitely be disappointed. For example, should you need waste clearance, there is an abundance of trustworthy waste clearance services in Aldgate EC3 alone.
Moving to The City of London
Even though life in the City of London is often considered as fast-paced and lively, residents of this charming area also have an opportunity to enjoy its beauty and tranquillity. From Gherkin, the most civilised skyscraper in the world, Vertigo 42, located within one of the city's highest buildings where you can sip champagne while enjoying panoramic views overlooking London's most iconic landmarks, to gardens of St. Dustan in the East church, one can easily fall in love with this urban and historic city. With not more than 10,000 permanent residents, The City of London is statistically the least-populated district in England. However, the lack of local residents is compensated by a commuter (300,000), which in return makes the City among the most expensive areas in London. From £500,000 small one-bedroom apartments to multimillion mansions in popular areas, living in the City is expensive. If you can afford it, some of the main part to consider moving to include:
The Landmark Place development
Brutalist complex and
the Barbican Estate
Pictured: Gherkin, 30 St Mary Axe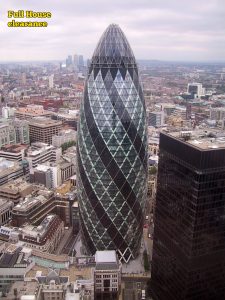 But what's not costly is high quality house clearance in Barbican EC1. You can dispose of your garbage properly, efficiently and for a low price.
Education in The City of London
If you are planning to move to the City and have kids that go to school, you might be disappointed with lack of primary and secondary schools. There is only one primary school, the Sir John Cass Foundation Primary School and no state secondary schools. Residents send their kids to schools in neighbouring boroughs. On the other hand, the City offers highly-ranked universities and renowned further education institutions, like the Guildhall School of Music and Drama and Cass Business School. Nevertheless, finding a trusted and budget-friendly rubbish clearance in Blackfriars EC4, for example, will be piece of cake.
Cultural attractions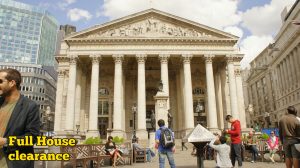 Considering its compact size, the City of London offers a wide selection of cultural attractions, where you can find clues of the city's history at every corner. One of the most popular attractions in this affluent area is a world-class arts and learning centre, the Barbican Centre where you can enjoy music, dance, and theatre performances. Other spots worth of mentioning are Guildhall Art Gallery, The Museum of London and Bank of England.
Pictured: The Bank of England
Getting around The City
The City of London is known as one of the busiest and most congested districts of London. This means that having a car is not practical. Driving is not recommended even if you can find property with a parking space. However, that parking space in front of your house can be useful for a leading domestic clearance in Temple EC4, WC2 to park. Only a garbage-free house is a home.
Getting around the city via the Underground is highly recommended. With its 12 stations serving the district, you can easily and quickly get from one end to another. Additionally, there are bus connections and major National Rail links that can take you around the City quickly and without hassle.
Shopping, eating and drinking
You can expect a pretty good shopping experience in the City. There are excellent shops and cafes in the One New Change shopping centre where you find brands like Sweaty Betty and Calvin Klein. Leadenhall Market is the City's main retail centre. The Royal Exchange, located opposite of the Bank of England, houses a number of stores, including Tiffany's and Mont Blanc. However, what the area lacks in terms of shopping, it makes up with its choice of places to eat and drink because some of London's finest dining establishments can be found here.
Duck and Waffle is the highest 24-hour restaurant in London, offering an amazing eating experience 40 stories above ground. Have a lunch in SushiSamba in Heron Tower that offers 360 degree views of the City through floor-to-ceiling glass windows. Don't miss to visit Skylounge, a popular rooftop bar where you can have a drink while you enjoy a majestic view of the South Terrace over Tower Bridge, Tower of London and the river Thames.