Moving in together with your partner is a big step. You will not only take your relationship to the next level, but you will also change your way of living. However, many couples tend to start their life together on the wrong foot. That is because they forget about one key thing they need to do before they move under the same roof with their soul mate – to dispose of all the things they will not need in their new household.
Junk You Don't or Won't Use Anymore
Do not take things you have stopped using years ago into your love nest. Chances are you will not start using them now. They will only take up space and continue to serve as dust magnets. Our advice is to go through your entire inventory before you even start packing. Get rid of clothes you no longer wear or old magazines you will never open again. Don't forget that this is something both partners should do. It would not be unfair if you throw away your junk and your partner gets to keep theirs. What is more, it will not be practical.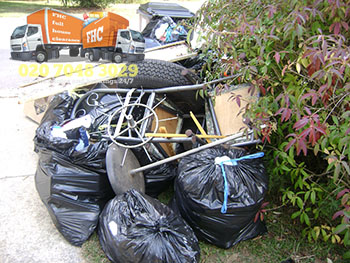 The moment you start sharing a home with your loved one, you should also say goodbye to your bachelor or bachelorette lifestyle. This, dear gentlemen, means you should not take your foosball table or your Star Wars posters to your new house. Ladies, on the other hand, should probably leave behind their pink bed covers and their heart-shaped sofa cushions. View that act as a sacrifice which both of you need to make. You may not find it very pleasant to leave part of your life in the past. However, it is often a necessary step when you want to start a new chapter. One more thing – it won't be a bad idea to consider contacting a rubbish removal company for bulkier items that you are not able to sell or give away to friends. These firms will take pretty much anything you are no longer willing to keep, including electrical appliances and furniture. In that way, you will not only solve the matter faster, but you will also dispose of your garbage in an eco-friendly manner.
Less is More
A couple consists of two people, but that does not mean that everything in a couple's life should come in two. For example, you will not need two microwaves or two home theater systems. In some cases, less is more. If you and your soul mate own two similar furniture pieces, kitchen appliances or electronics, you will need to pick just one of them. By doing so, you will avoid filling your new home with unnecessary objects. But this process of selection can sometimes cause frictions between partners. That is why you need to follow a set of basic rules. As a start, make a list of all the things you own in doubles. Then when choosing which one to keep, consider which will go more with the interior in your love nest or which have been purchased more recently. Also, when it comes to furniture, always keep in mind the size of the pieces. For instance, if both of you own a dining table, measure to see which will fit your dining room better. Last, but not least, now is the time to remove all the broken or unused furniture or electronic appliances from your life. Some junk removal companies give unwanted items for recycling or donate them to people in need. In addition to that, these professionals will come to home to pick up the materials, meaning you will not even need to lift a finger.
Once you dispose of all the junk from your old life, you will be able to enjoy a fresh start with your partner.