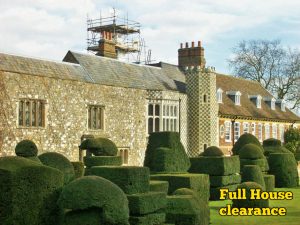 Bexley is becoming an increasingly popular place to live. It was an ancient parish that was part of the County of Kent, which is why many of its residents still identify as being from there. Some of the reasons many people choose to move to this amazing borough with a rich history are its below-average house prices, many mesmerising open spaces, outstanding waste collection and disposal in Bexley Old DA5, low crime rate, and other. The most popular attractions in Bexley include:
Crossness Pumping Station
Red House
Lesnes Abbey
Danson Park
Bexleyheath Clock Tower
Bexley Brewery, etc.
Voted for one of the safest places to live in London in 2018, Bexley is a brilliant place to live and we bring you more reasons why you should consider moving to moderately-priced London Borough of Bexley.
Pictured: Hall Place, Bexley
Affordable house prices
Living in central spots of London costs about £480,000, which many consider expensive. House prices in Bexley are below average at £343,000. Even though the prices have risen recently, the rates are still affordable. So, if you're planning to buy or rent, this is your chance to get a stylish place that won't cost an arm and a leg. Another advantage is that you can have your property professionally cleared of junk thanks to comprehensive waste clearance in Barnes Cray DA1.
Low crime rates
We all dream about living in a safe area with low crime rates. If you're planning to move to Bexley, you will be thrilled because, according to the figures from 2018, it is one of the safest boroughs in London, with 16,388 reported crimes within a year. The statistics also reveal that Sutton is the safest borough, and these follow:
Kingston (2nd)
Richmond (3rd)
Merton (4th)
Bexley (5th)
In addition to offering its residents safety, Bexley is also known for providing excellent house clearance services. You can book the most efficient house clearance in Barnehurst DA7 without breaking the bank.
A green and eco-friendly area
Bexley is one of the greenest boroughs in London, with more than 100 parks. Donson Park is probably the most popular, with a historic house and the 200-year-old oak tree. Foots Cray Meadows, Hall Place and Lamorbey Park are also worth mentioning. But not only that it can be proud of so many gorgeous open spaces, but studies say that it is also a leading borough for renewable energy consumption (51%). On top of this, you can hire the most reputable waste clearance in Blackfen DA15 that will dispose of your waste in an eco-friendly and green way.
Pictured: Five Arches Bridge at Foots Cray Meadows
Arts and Crafts
Moving to Bexleyheath gives you an opportunity to live close to Red House, an iconic example of arts and craft architecture built in 1860. The structure, which is now in the care of the National Trust, displays traditional craftsmanship and medieval, folk designs. The house allows its visitors a glimpse into the life of William and Janey Morris. There is also a lovely and quiet garden for visitors to enjoy. The borough offers other cultural spots, such as Danson House, Hall Place, the ruins in Abbey Wood and other. In addition to being the borough of culture, you can also find the most trusted house clearance in Bexleyheath Bexley New Town DA6, DA7 that offers the best garbage disposal services.
Pictured: The Red House, Bexleyheath
An abundance of activities for single folks and families
 If you are in a mood for a relaxing afternoon stroll or want your entire family to spend some quality time together sliding, splashing and enjoying water activities, Danson Splash Park and Playground will meet all your expectations and keep your kids busy for hours.
On the other hand, if you love golf or beer, Bexley is just the right area that will suit you. There are more than a half-dozen courses in Bexley, including Barnehurst Golf Club and Royal Blackheath Golf Club. If you're thirsty and need a drink, Bexley Brewery is the place to go as it offers distinctive beers with a range of interesting flavours for you to enjoy. It is the first brewery to exist in the borough since Refells Bexley brewery closed in 1956. Therefore, whether you are single or have kids, you will find something for you in a lovely London Borough of Bexley. And remember, you have access to exceptional rubbish removal in Belvedere DA17 so your house is always junk-free.